Daycare
Meet & Greet
One-time fee: $15 (includes day of play*)
*Must pass Meet & Greet evaluation.
Daycare
Single visit: $29
Half day: $19
Pass Packages
5 Day Pass: $27/day ($135 total)
10 Day Pass: $26/day ($260 total)
20 Day Pass: $25/day ($500 total)
30 Day Pass: $24/day ($720 total)
Memberships
BFFFs - 8 days a month: $25/day ($200 billed monthly)
Really Big Deal - 12 days a month: $24/day ($288 billed monthly)
Top Dog - 20 days a month: $22/day ($440 billed monthly)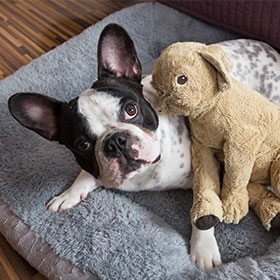 Boarding
Standard: $45/night
Personal suite: $60/night
Additional Dogs: $40/night
Boarding prices include:
All day daycare
Overnight stay
All feedings and medication as needed
Stay 5+ nights: 10% off
Additional daycare fee applies for pick-up after 12pm.
Spa
Prices vary based on weight. Our Full Spa Service treatment includes bath with shampoo and conditioner, nail trim, teeth brushing, ear cleaning and blow dry.
Full-service Spa - Starts at $40
Spa Bath - Starts at $15
Nail Trim - $10
Ear Cleaning - $10
Teeth Brushing - $10
Brush Out - Starts at $10
Inquiries
Have a question? Need to book an appointment? Please fill out the form below and we will get in touch with you as soon as we can.