PAWS 4 Shots - July 27, 2018 3:00 - 6:00 PM
Premium Vet Care at very affordable costs our Vaccination and Vet Clinic - NO EXAM FEES!
Friday, July 27,, 2018 3:00 - 6:00 PM
Dogtopia San Marcos
925 West San Marcos BLVD
San Marcos, CA 92078
Call for a reservation, and Walk in's are Always Welcome!
Low cost vaccinations (update your rabies, DHPP, Bordatella, etc.), flea & tick prevention, prescriptions, micro chipping, heart worm testing, canine flu vaccinations and much more.
AND as always, NO exam fees, this is AFFORDABLE HEALTH CARE FOR YOUR PUPS!
For pricing: http://paws4shots.com/wp-content/uploads/2017/06/Rack-Card-Canine-2017-3.pdf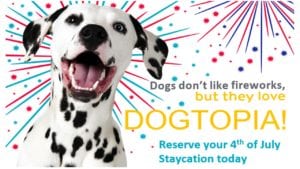 July Summer Staycations - June 30, 2018 7:00A - 7:00P
* Reminder* Make Your July and Summer Boarding Reservations
We are approaching maximum occupancy for Summer Staycations, book your reservations today!
Dogtopia San Marcos
925 West San Marcos BLVD
San Marcos, CA 92078
Celebrate Summer with your BFF's at Dogtopia!
Charity Dog Wash - June 23, 2018 9:00 - 3:00
CHARITY DOG WASH BENEFITING SAGE CREEK HIGH SCHOOL
What:  Dogtopia is teaming up with Sage Creek High School volunteers to wash your furry family members for donations.  Dogs can also be treated to baths and other spa services such as nail trims, ear cleaning, teeth brushing or just come in to mingle in the BARKING LOT for some tasty treats. All donations will go to the direct support of Sage Creek High School and Its Students to provide cutting-edge Academic, Athletics, Visual and Performing Arts programs, Technologies and experiences preparing them to succeed in their college and career aspirations.  Sage Creek High School is hoping to raise funds, awareness and support during this event.
San Diegans can get involved by making donations, or bringing their pooches in for a wash or other doggy spa treatments such as nail trims, ear cleaning or teeth brushing. The event will feature a fun, family atmosphere with raffles, beverages and treats.
Dogtopia and Sage Creek High School are looking for event volunteers; those interested can sign up by sending an email to sanmarcos@dogdaycare.com
San Diego Pet Expo - October 27, 2018 10;00am - 6:00pm
SAN DIEGO PET COM When:  Saturday, October 27, 2018 Where: Del Mar Fairgrounds from 10 - 6:00 What:  San Diego's largest Pet Expo, bring your dogs, plenty of shopping, education/learning, pet adoptions, pet costume contests, lots of doggy fun for you and the family. Visit the Dogtopia booth for show specials and prizes. For tickets and information: http://www.sandiegopetcon.com/
Inquiries
Have a question? Need to book an appointment? Please fill out the form below and we will get in touch with you as soon as we can.