Team
Our team invests in YOU. Supports YOU.  We foster a culture of collaboration and respect amongst our franchisees as a true partnership from one CEO to another. At Dogtopia, we own the brand….you own the business.
This ensures our leadership, Support Office Team and franchisees are all on the same page. We are all determined to enhance the brand and grow it in every community we touch. Our work ethic is fueled by the confidence in this industry, our team and tenacious franchisees because we believe that there truly is no limit to where we can take our brand.
LEADERSHIP TEAM
Neil Gill,
CEO/President
Neil Gill is CEO and President of Dogtopia Enterprises. Neil has spent more than 35 years in franchising with international brands such as KFC, Pizza Hut, Brinker International . He has experience in taking franchise brands through IPOs and worked in a variety of sectors from on-line education, weight loss, bakery and Asian tea. Neil has a love of franchising and the entrepreneurial spirit it enables in everyone involved.
Alex Samios,
Vice President – Franchise Development
Alex has been in the franchise industry for 24 years.  He began his career in Operations, opening and running restaurants for Papa John's Pizza before becoming a franchisee in 1996.  He was a franchisee for a total of 11 years: building opening and operating 34 restaurants in four years (nominated "Franchisee of the Year" three times).  In 2000, Alex was also the first franchisee for a mobile pet grooming concept and started his own franchise in the health & wellness industry in 2010.  Before joining Dogtopia in January2016, Alex had been an investor and consultant to emerging brands while serving on several Boards. Mr. Samios grew up in and around the franchise industry – his father was the first franchisee for Jiffy Lube.
Kim Hamm,
Vice President – Operations
Kim Hamm is the Director of Operations at Dogtopia. Her key responsibilities include overseeing the Support Office operations, training and corporate store teams, implementing new strategic initiatives, and driving comp growth across the system. Kim has been with the brand since September 2015, and was previously a member of Thomas Franchise Solutions who partnered with Dogtopia as a strategic investor in 2012.
Kim is a dual citizen of Canada and the US and her prior background includes 10 years of hospitality and hotel management in Canada. Prior to receiving her Bachelor of Commerce degree in entrepreneurial management, she served a six-year tenure at a boutique resort in Tofino, BC, which yields the highest REVPAR production ranking amongst hotels in Canada, where she held various positions including Business Analyst, Controller and Director of Operations.
Shelley Parnell,
Vice President – Marketing
As Vice President of Marketing, Shelley Parnell manages Dogtopia's external agencies and sets the strategic direction of the Company's marketing and communications. Shelley began her career with 10 years in the agency world, servicing a broad range of clients including Starbucks, Quiznos, Safeway, Mercedes-Benz, Sheraton and America West Airlines. She has since owned her own PR & marketing consulting company, served as vice president of marketing at the Greater Phoenix Economic Council (GPEC) and managed marketing and investor relations in the biotechnology space. She lives in Phoenix with her husband Andy, two kids, Murphy the Golden Retriever and Gizmo the Pug.
Jesse Stiles,
Vice President – Real Estate
Jesse Stiles, VP of Real Estate, has been at Dogtopia since August of 2016 and manages the real estate process (site selection, lease negotiation, market analysis) as well as Dogtopia's strategic partnership with Cushman & Wakefield.  He's worked in franchise development and real estate for the last 12 years with time at Quiznos, Driven Brands, and most recently Domino's, where he worked in strategic development of key markets in the Western US.  Jesse grew up in Boise, Idaho, attended college at the University of Montana, and recently relocated to Phoenix from Denver alongside his wife and two energetic sons.
Kathy Halter,
Vice President – New Center Development
As Vice President of New Center Development, Kathy Halter drives new store construction and implements strategic growth initiatives. While fostering design innovation and managing vendor relationships, Kathy's sole mission is to produce best in class dog daycare centers for pet parents and Dogtopians. Her career began as a multi-unit operator with KinderCare before she moved up through the company over the course of 20+ years. She developed and delivered on new school growth strategies through new builds, mergers and acquisitions, and corporate onsite solutions to produce more than 200 centers during her tenure. Kathy attended college in North Carolina at Appalachian State University and then relocated back to her hometown of Phoenix with her daughter Emmie and two awesome Doodles, Mabel and Mimi.
PETER H. THOMAS,
Chairman
Peter Thomas was one of the leading real estate developers and lenders of his time in North America, developing several billion dollars of projects. He brought the franchising rights of Century 21 Real Estate to Canada and developed it into the largest franchise in the world.
SUPPORT TEAM
Bryan Anderson
Chief Financial Officer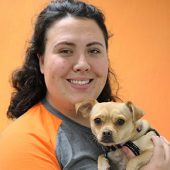 Ciara Archer
Content Manager
Alexandra Branham
Content & Training Manager
Kim Broome
New Store Opening Manager
Alan Church
Market Analyst
Nikayla Cragin
Business Planning Manager
Tracy Cross
Director of New Store Openings
Michael Ellis
IT Systems & Integration Manager
Jeff Farnell
Director of Operations
Elizabeth Geist
Director of Learning & Development
Trey Hanson
Director of Facilities Management
Jeri Kendle
Foundation Manager
Kayla Larkham
Human Resources
Tiffanie Luster
Operations Support
Jeff Martin
Operations Manager
Aaron Mueller
Director of Design & Construction
Jeff Smith
Operations Manager
Toni Teplitsky
Director of Marketing
Nick Tran
New Store Opening Manager
Julia Zolondz
Creative Director